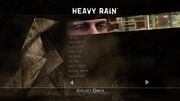 As part of its "interactive movie" concept, Heavy Rain is divided into a series of chapters, like a DVD. Each focuses specifically on one of the four protagonists at a time (though some focus on two or three).
List of chapters
Edit
List of epilogues
Edit
Main article: Endings
---
SPOILER WARNING!
Reading any of the following articles will give away spoilers. Please consider waiting until you have finished the game before you read them.
---