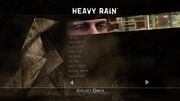 As part of its "interactive movie" concept, Heavy Rain is divided into a series of chapters, like a DVD. Each focuses specifically on one of the four protagonists at a time (though some focus on two or three).
List of chapters
Edit
List of epilogues
Edit
Main article: Endings
Reading any of the following articles will give away spoilers. Please consider waiting until you have finished the game before you read them.
In certain chapters, the game may glitch and alter players' choices when returning to a chapter via chapter select without saving progress. For example, the chapter "Under Arrest" may glitch and show the cutscene with Ethan being thrown in a cell even if Ethan evaded arrest on the actual saved game.
If the player has more than one save file in use, if they complete a chapter via chapter select without saving and then exit to the main menu, the game will switch to the newer save file and the player will have to load the save they were playing on previously.
Sometimes a glitch may occur on the PS3 version of the game which causes the game to become stuck on a loading screen. The PS3 will usually restart itself to correct the glitch if it happens.
The lowest number of total chapters (playable or unplayable) that can be completed in a game is 45. If Madison and Norman die in their earliest possible chapters, five of the 52 total chapters will be skipped; if Ethan is not arrested, "Under Arrest" will be skipped (alternatively, if he is arrested, "The Rat" will be skipped instead); and if Lauren dies in "Trapped," "Goodbye Lauren" will be skipped, thus skipping seven of 52 chapters in total. The lowest number of playable chapters that can be completed in a game is 41 (counting "The Old Warehouse" as unplayable in the case that no one arrives at the warehouse).
Community content is available under
CC-BY-SA
unless otherwise noted.