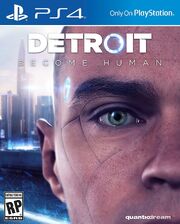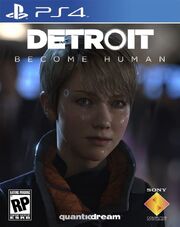 Detroit: Become Human is an action-adventure game for the PlayStation 4 that was released on May 25, 2018. It was written and directed by David Cage and developed by Quantic Dream, who also developed Heavy Rain (to which it bears a resemblance in terms of gameplay and style).
The game takes place in Detroit, Michigan in the year 2038. Its plot revolves around three androids: Connor, who works with law enforcement to hunt down deviant androids; Kara, who seeks to escape from an abusive master's house with his daughter and find a better life; and Markus, who leads the androids in their struggle for freedom and equality. They may survive or perish depending on dialogue choices that shape the story as customized by the player.
A version of the game called Detroit: Become Human Digital Deluxe Edition included an upgraded soundtrack, dynamic theme, avatars, and the PS4 version of Heavy Rain.
On December 4, 2018, the standard edition of Detroit: Become Human, Beyond: Two Souls and Heavy Rain were released as the Quantic Dream Collection.
External Links
Edit
Community content is available under
CC-BY-SA
unless otherwise noted.