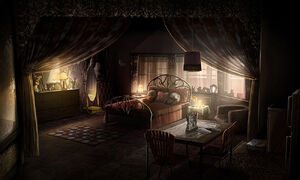 Lauren Winter's apartment is a location in the city in which Heavy Rain takes place. Located in a run-down extended-stay hotel, it is home to Lauren Winter, a prostitute whose son Johnny was a victim of the Origami Killer.
Scott Shelby visits Lauren's apartment during his investigation, where he tries to convince her to talk about the circumstances surrounding her son's disappearance. He may also get in a fight with Troy, a loan shark and one of Lauren's former clients who forces his way into her apartment. Shelby leaves his business card with Lauren before he goes, hoping that she will contact him.
Known Residents
Edit
Chapter Appearances
Edit
Lauren Winter's apartment is located at 1964 Woodland Avenue in Springfield, Pennsylvania, according to the address on the Church Letter's envelope.

The zip code on the envelope (19118) is for Chestnut Hill, an affluent neighborhood in Northwest Philadelphia. "Springfield" is a common name for Springfield Township, which is located right next to Chestnut Hill.