For the chapter, see The Old Warehouse.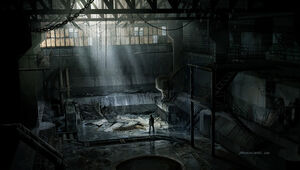 The old warehouse is a location in the city in which Heavy Rain takes place. It is an abandoned building in which the final chapter of the game unfolds.
After kidnapping Shaun Mars, the Origami Killer locks him in a drywell in the old warehouse, in which he will drown when it fills with rainwater. Ethan Mars, Norman Jayden, and Madison Paige can free Shaun if they find the warehouse, though Norman and Madison will also have to fight the Origami Killer.
Chapter Appearances
[
]
Trivia
[
]
The old warehouse is located along the river at 852 Theodore Roosevelt Road.
Norman mentions in "Solving the Puzzle" that a retired police lieutenant owns the warehouse.
Shaun will always survive if Ethan arrives at the warehouse. However, he can still die if Madison arrives alone and is killed before she opens the drywell, or if she arrives with Norman and both of them are killed.
Gallery
[
]