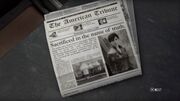 The American Tribune is a daily newspaper in the Heavy Rain universe. It has been in circulation since 1875.
Madison Paige contributes photographs and articles to The American Tribune. Her friend Sam may write for the newspaper, as well.
Trivia
[
]
According to Heavy Rain: Cutting Room Floor, an early version of the game allowed players to visit The American Tribune's office when playing as Madison to conduct research, speak with her boss, and write articles. François Baranger even created concept art of the office.
In Beyond: Two Souls (another Quantic Dream game), when playing as Aiden the player can spot a man reading an issue of The American Tribune that mentions the Origami Killer. Another issue can be seen in Jodie's hospital room as she recovers from a coma.
In real life, The American Tribune is the name of an old satirical news site (which, as of October 2020, is offline).